On April 24, 2012, the V Annual International Conference «Woman – Peacemaker in the family, nation and world», dedicated to Mother's Day, was held in Kiev, the capital of Ukraine.
The conference topics were the role of women and mothers in building a peaceful society and participation of national and international non-governmental organizations in the dissemination of human values. The conference was attended by 200 people from different parts of Ukraine: representatives of NGOs, government agencies, prominent artists, educators and scientists.
Maintaining its international status, the conference gathered representatives from Ukraine, Japan, Great Britain and Russia.
«Woman-statesman» award was given to the Head of Kashperivka Village Council Mrs. Larisa Stepanenko. «Woman-journalist» award went to executive secretary of Kiev Journalists Union Mrs. Alla Malienko.
Head of the board of the «Women's Federation for World Peace»-Ukraine Tatiana Kotseba greeted everyone on the occasion of Mother's Day.
 The conference was opened by the Deputy Chairman of the Main Directorate of Family, Youth and Sports affairs of Kiev City State Administration Mrs. Olga Arkanova-Chorna.
The speeches were also given by the international guests: WFWP-Japan representative Mrs. Fujiu Noriko, Area Representative of WFWP North England region Mrs. Josefa Borowy.
Traditionally the conference had «Woman of the year» award ceremony, where 10 outstanding women of Ukraine received this award in different nominations. «Woman-public figure» award was given to the head of All-Ukrainian public organization «Women's Union of Ukraine» Mrs. Maria Orlik.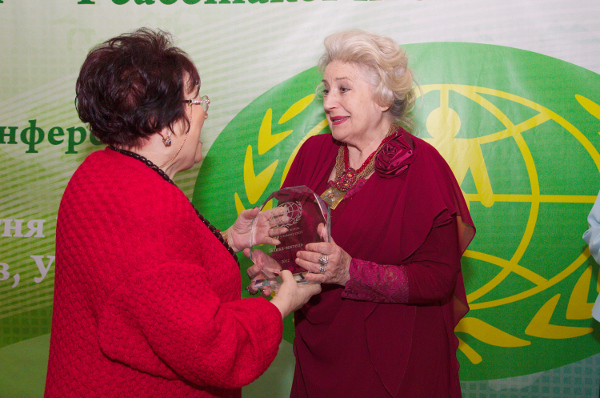 People's Artist of Ukraine who had been serving to theatrical art for about 78 years, Mrs. Galina Yablonskaya, received «Woman-artist» award. Honored Doctor of Ukraine, physician of Cabinet of Ministers of Ukraine clinics, Mrs. Irina Sigaeva, received «Woman-doctor» award.
«Woman-Olympic champion» award went to double Olympic champion, five-time world champion, four-time European champion and "World yachtsman of the year 1997" Mrs. Olena Pakholchik.
The head of Shevchenko region public organization «Union of families with many children «Mother's love», mother of 6 talented children and grand-mother of 9 grandchildren, Mrs. Lyubov Mulyarchuk, received «Woman-mother of many children» award.
The head of public organization «Brotherhood «Poznyaki in Kiev City», Mrs. Nina Pokotilo received award in «Woman-teacher» nomination.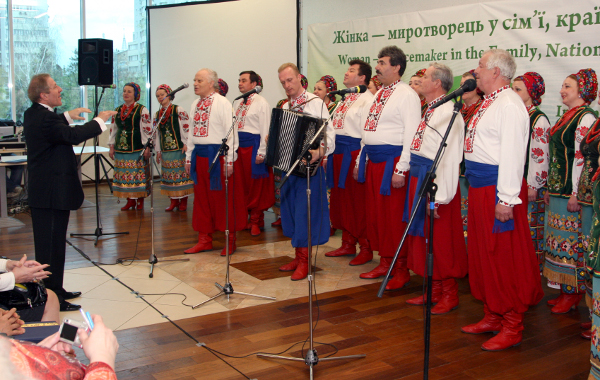 «WOMAN — PEACEMAKER IN THE FAMILY, NATION AND WORLD» 2012